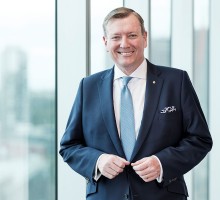 Message from the CEO
Landcom's international recognition as fourth in the world and third across Asia Pacific in the 2018 and 2019 Global Real Estate Sustainability Benchmark Developer Assessment demonstrates the ongoing success of our commitment to sustainability.
Through the adoption of our Sustainable Places Strategy into the business, we have effectively repositioned Landcom as a leader in delivering more affordable and sustainable communities for the people of NSW.
Our FY19 results show we are well on the way to achieving our goals. This year Landcom was again recognised as a global sustainability leader achieving 4th place globally, and 3rd across Asia Pacific in the Global Real Estate Sustainability Benchmark (GRESB). Landcom is the first and only government land organisation in the world to participate alongside publicly listed and private companies.
We also formalised our commitment to Human Rights as a United Nations Global Compact Participant, prioritised core focus areas of human rights for our business, and adopted our Diversity & Inclusion Policy supported by a staff led working group.
To drive market change for a low carbon economy we launched our first Sustainability Rebates to buyers at Macarthur Heights, supporting residents to reduce their cost of living and environmental impacts. The NSW Minister for Energy & Environment honoured Landcom's effort with a Sustainability Advantage 2019 Bronze recognition award.
Our University Round Table Power Plants collaborative research project team were awarded the 2019 Landscape Architecture Award for Research, Policy and Communications by the Australian Institute for Landscape Architecture. This is an experimental phytoremediation and land management research experiment using plants to remediate post-industrial contamination, and exemplifies Landcom's commitment to innovation that has wide reaching and tangible results for future development.
I am proud of our ongoing commitment to deliver affordable and sustainable communities. It is through these points of difference that we underpin our future financial success and enduring benefits for the people of NSW.

John Brogden
CEO, Landcom